Olivia had been a member of the Cleveland Browns KidsClub since October 9, 2001. Her membership included all kinds of freebies children enjoy.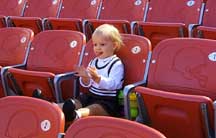 During her membership, Olivia received quarterly newsletters, Browns t-shirt, Dawg Pound towel, baseball cap, magnetic photo frame, flag, notebook, and numerous other items. She also received McDonald's coupons, even though she never had a chance to use them; and, a 10% discount at the Team Shop at Cleveland Browns Stadium; even though she preferred pennies to dollars, there was nothing to be had at the Team Shop for pennies.
The enjoyment of Olivia's membership was when she and her mommy went to the Browns Stadium to watch the Cleveland Browns Prime Time Preview on Thursday, August 8, 2002.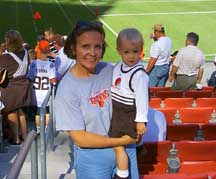 Olivia even met many scary Browns fans.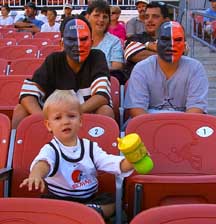 Olivia had the opportunity to see Coach Butch Davis up close. Though she was too young to ask for an autograph, Olivia was in training to be an autograph seeker for future games.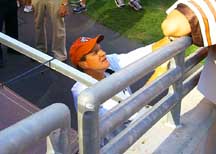 The enjoyment for Olivia multiplied when her picture was included in the Spring 2003 KidsClub Newsletter. She was very proud to see herself in the newsletter and point it out to all of us.
Fund-raising events sponsored by the Spiros Family during 2003:
4 Tickets: Pittsburgh Steelers vs. Cleveland Browns Raffle Winner
4 Tickets: Indianapolis Colts vs. Cleveland Browns Raffle Winner