Excerpts from e-mails:
Qian "Cherry", mother of Olivia's classmate, Daniel
April 30, 2003
" … Ever since we heard of the sad news, not one single day has passed without thinking of you and little angelic Olivia. Every sunshiny day when I came to work, I would see the picture of you and little Olivia, walking to the building on a beautiful sunny day, you talking to her lovingly, her face so beautiful, innocent and happy. The picture is so vivid and happy.
Last Thursday (April 24, 2003) when we received the sad news, we were all shocked. I didn't know how to tell Daniel about what happened to his friend.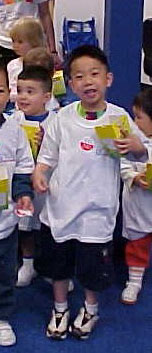 I was so touched when I read your initial email. I read it a couple of times and I really got to see things from your point of view. I decided that I would talk to Daniel in the way you conveyed in the email. I would let Daniel decide if he wanted to go to the celebration of Olivia's life.
When I told Daniel that Olivia became an Angel and she would never come back to school, he said that he didn't want that. He wanted to play with Olivia. I told him that Olivia got very sick and her mommy and daddy and doctors couldn't take care of her anymore. He then asked if Olivia's mommy could go with Olivia and I told him no. His eyes welled up with tears. Later he told me that he wanted to do some drawings for Olivia.
On Sunday (the day of Olivia's service), the first thing he did was a drawing for Olivia. The first one he drew was of an Angel, Ambulance and Rainbow. The way he explained it to me was, the Angel and Olivia are going to the rainbow, and Olivia is in the ambulance.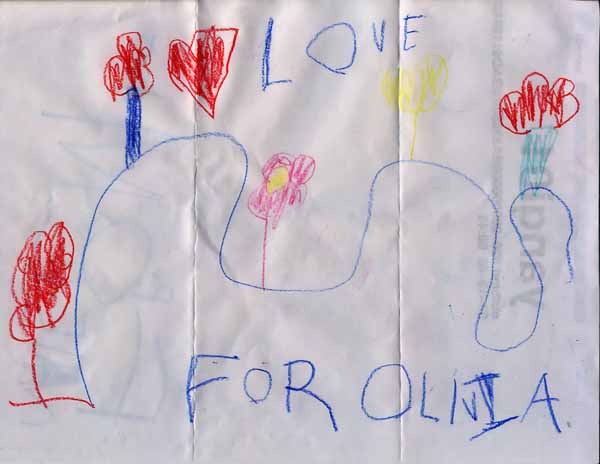 Then he drew another picture, all flowers. I asked him what the flowers meant and he told me that they meant all the love for Olivia. We asked him to pick one and he picked the flower one and sealed it in an envelope. He wanted to give it to Olivia. I had to break it to him gently that he wouldn't see Olivia at her service because Olivia already became an Angel. Then he wanted to give the letter to you and watch you give it to Olivia. When he saw other people were putting envelopes in a box, he dropped his in it too.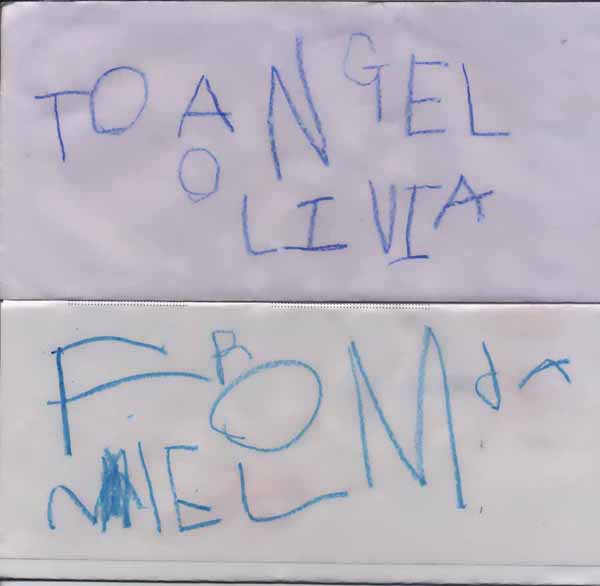 I was glad that we took Daniel to the celebration of Olivia's life. We all got to know more about Olivia. The room was arranged with such great love and care. There was so much love in the air. During the service, I was laughing and crying at the same time. I admire your strength. It took character and belief to do all you did. You have it.
Daniel still asks questions about Olivia now and then. " Has Olivia got my letter in her hands yet?" "What is Angel Olivia doing now?" " Why is Olivia so good at counting?" "Will Olivia's mommy have another child?"
Olivia was so perfect. She always looked so sweet, happy and healthy. I believe that she was a really blessed child and you and Gary were the greatest parents in the world.
I know that you must have a lot to deal with. I didn't get to talk to you at the service. I want you to know that we all feel for you. I felt I learned a lot from you. It looks to me that you are the kind of person who lives life to the fullest and doesn't have anything to regret. You might go through pain because of the uncontrollable but you don't have any regret with everything you've done. You have my respects for that."
May 5, 2003
"… Every time when I see pretty hats for little girls, I remember how much Olivia loved wearing her pretty hats and how she always said "It is windy!" because the wind was about to blow her hat away. I will never forget the little angel, standing there in her pretty dress and pretty hat with her sweet smile."
May 6, 2003
"… Yesterday I read the card from you to Daniel (he can read it by himself but I still read it to him). He asked me, "Does Olivia like my drawing?" I gave him a positive answer. Then he asked, " Will Olivia give me her drawing?" I told him that Olivia hadn't learned how to draw yet. He asked, "What could Olivia draw when she was learning?" I told him that only Olivia's mommy could answer that question. I asked him what did he remember most about Olivia, he said, " She was always so happy."
Daniel put Olivia's pictures on the car window. I took them inside and put them on the refrigerator. I miss Olivia, her sweet voice, her sweet smile and her beautiful face somehow sticks in my mind. I am sure that she will be missed and remembered by a lot of people who knew her."
May 16, 2003
"...I was glad that I knew more about little Olivia's life because she was truly special. I was sad because I felt the pain of not having her around anymore.
I know it must be very painful for you now and I know nothing I can say now that can ease the pain you are experiencing. I just want you to know that you are truly an inspiration to many parents…"